Incredibars
Incredibar is a neat program that let's you customize how
your browser looks, and you can even customize how your cursor looks. It's
free, brought to you by the same people who make Incredimail.
Click here to go to their site.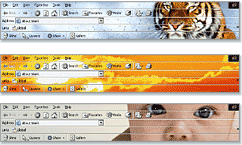 Here are the different categories. Just click on the link
to go to that section.
Animals
Characters
Flowers
Misc.