Welcome to Moochi Mooks Incredimail Plus!
At this site you will find letters for your Incredimail.
If you do not have that program, you can find it at the above link
or by clicking the pencil below.


*It's come to my attention that some people cannot see the whole
letter. So just to let you know before you download,
these letters are made for a screen resolution of 800 x 600.*
Updated 6/5/04
At the below link, you will find the new additions!
New Stuff

---
Letters
Tags
Blinkies
Glitter Dollz
Incredibars

E-Mail


This site was made using the Little Lord Fontleroy font which you can find here.
If you liked your visit, please vote!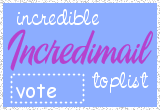 SiteRing by Bravenet.com